I have read an article on bestlifeonline.com titled "40 Ways Your Body Changes After 40 "- the good, the bad and the unavoidable.
This post is an extensive aging symptoms collection with some good suggestions how to lessen them, but it appears that they have no idea what causes them in large.
Why do we experience any of these symptoms at all? What is the one underpinning change that occurs as we age?
Let's start with a short overview of the symptoms, although I will not mention all 40 of them. If you want to read them all click here to read the the article. The main symptoms:
Wrinkles become more pronounced and the article states its due to aging and wear and tear.
Hair starts to grow in weird places and both man and woman are allegedly will be prone to this. In the same time allegedly we are starting to lose hair and especially man start balding. No exact reason mentioned – neither any solutions.
You experience more aches and pains and the articles states that wear and tear on the body is cumulative – which is true, but I don't think this is the full or real reason. Let's not forget that our kids push their bodies like no tomorrow and experiencing plenty of tear and wear, BUT their body recovers and regenerates much faster. WHY? – the articles states, that Scientist not certain why it takes longer to bounce back from injury as we are getting older.
Now this statement is incorrect. Those scientists who have been involved in a certain health-science and anti-aging and sport-performance discovery, now know why it is, although many  scientist and Doctors don't know about it yet. The information about this breakthrough discovery is available for everyone, and if you would like to read about it, click here.
Apparently after 40 you sleep less, and the quality of sleep also declines. THIS is certainly not true for me. I can sleep like a baby. Mind due it might just be one of the many positive effects of the supplement I'm taking.
The article also states that it becomes harder to lose weight. I disagree with that, I strongly believe that if we provide proper nutrition to our body and don't forget to exercise regularly, losing weight shouldn't be any harder than at a younger age.
At around mid-30 early 40 we start to have more grey hair. By simple observation it holds true, but the real cause is not our age, but mineral deficiency. Keeping a diet high in copper, iron and B vitamins can help to lessen greying. In fact, I have somewhat less greys now in my hair than 3 years ago.
For us ladies, the forecast is that we will experience all kinds of perimenopause symptoms, for example migraines. But I think these are also avoidable and so far, I don't have any of them. This article doesn't mention it but having enough vitamin D for us ladies is crucial. If you want to know what else I'm taking to prevent those unwanted symptoms, let me know.
Our body is breaking down
At around 40 is when we start to notice that our body is breaking down. It doesn't start when we are 40, it is accumulating from younger age and it is the result of oxidative stress. What factors cause oxidative stress?
Bad diet, toxins we are exposed to in our environment, stress, even heavy exercise is hard on the body and contribute to it's breaking down.
You might not be aware, but there are many toxic substances are in the average body care products. For example Sodium Laurel Sulphate in shampoos, body wash, dish washing liquid, Polyethilene glycol or PEG is the basis of many skin creams and these act as pseudo-estrogens in our body, and these can cause oxidative stress.
If you would you like to get my list of toxins free body-care brands, please let me know in a comment.
The Good News
After facing what is to come, you might ask, what can I do about it?
Can aging be prevented or at least slowed down?
What is the underpinning change?
While we certainly can't turn back time, there is a way to slow down aging by supplementing redox-molecules.
The advantage of helping our body with supplementing the diminishing amount of redox-molecules as we age, we enable it to  become youthful and energetic again, to get rid of the body aches and pains by itself, smooth out wrinkles and more.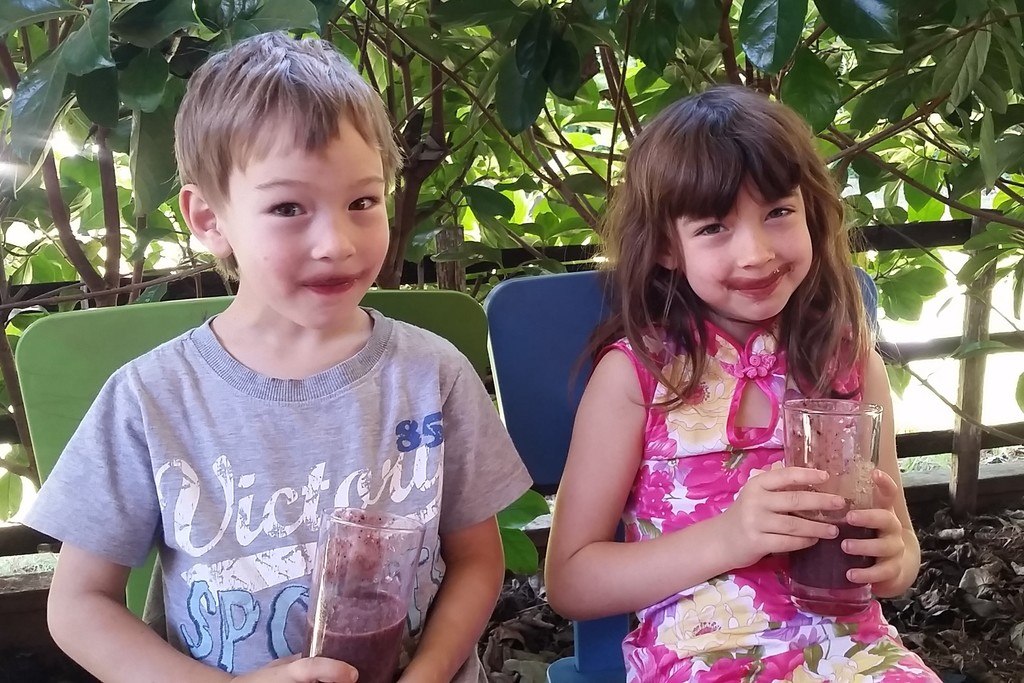 I was curious how to get kids to eat vegetables for a long time as I have found it to be a great challenge. Especially my daughter was very fussy about veggies. She only ate carrots and frozen green peas, green leafy vegetables were a big NO.
Green Smoothie For Kids
We all know the importance of developing healthy eating habits early and get our kids to consume plenty fruits and vegetables. But the challenge remains: how to get kids to eat vegetables? When I have started to work on my 30 days green smoothie challenge, I realized that this is the solution not only for us, adults to increase our fresh vegetable intake but the smoothies are so tasty, that my kids like them too. Making smoothies is an excellent and easy way to incorporate several fruits and vegetables into the kids diet and they are so tasty that the kids will love them. The best thing about a green smoothie is that all the natural goodness of the ingredients stay intact as no cooking required. If you ever wondered how to get kids to eat vegetables, this is the answer.  Making smoothies is an excellent and easy way to incorporate several fruits and vegetables into the kids diet and they are so tasty that the kids will love them.
Get Them Involved In The Creation
The kids like to get involved in making the smoothie too. They see what goes into the smoothie and learn what are the good stuff. My kids refuse to eat spinach on its own but have no objection about putting spinach into the smoothie, for it's part of the recipe. We have tried other fruits and vegetables as well to create different smoothies and after a while my kids become more and more open to try out new variations.
They learn what is healthy. Even when we are not making a smoothie but they become hungry for an apple or banana, they are saying: "Mummy, apple is healthy isn't it?"
Now, if you looking for a delicious green smoothie recipe for kids, your search is over. Here is my kid's favorite green smoothie – or as we call it: red smoothie – recipe. It's very tasty and even it's color does not give it away.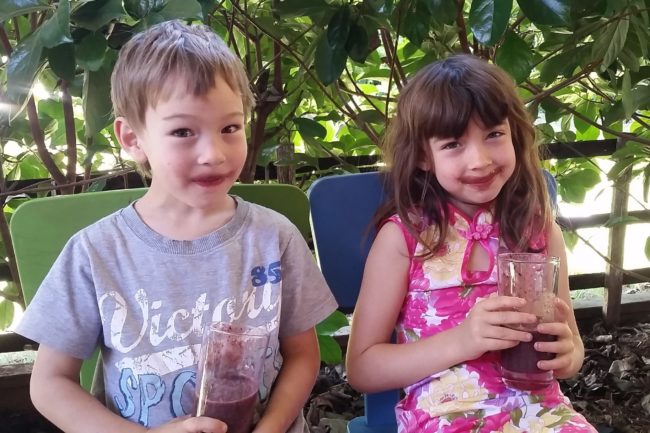 Spinach, Frozen Berries And Banana Smoothie
Ingredients:
11/2 cup spinach (or kale)
11/2 cup frozen mixed berries
1 small banana
1 cup of water
Put all ingredients in the blender and blitz it for 45 seconds.
All done. I don't know of an easier green smoothie recipe for kids.
Join our 30 day green smoothie challenge and receive great smoothie ideas in pdf. You will discover that you can use many green leafy vegetables interchangeably and make as many smoothie variations as many fruits and vegetables you can put your hands on. I encourage you to experiment on your own as well. Once you are in your smoothie creative zone, great smoothie ideas will come from you.
Health Benefits
You would be amazed to learn how many different essential minerals, vitamins and amino acids are in a spinach or kale and berry smoothie. These are the building blocks to a healthy body and the best source to get them from are the fruits and vegetables.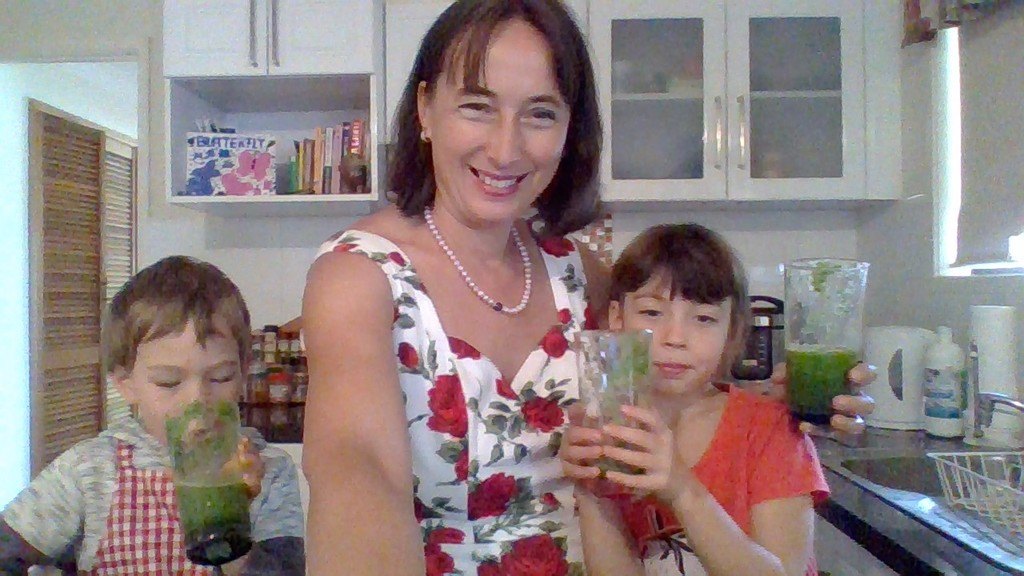 A smoothie a day is a great way to add green leafy vegetables to our diet. Even my kids started to drink mummy's delicious green smoothie.
Earlier it was impossible to get them to eat spinach and kale in a salad or cooked. But if it is in a smoothie, that is different! They drink the kale spinach smoothie with me. My son asked the other day, what is in the smoothie? I told him the ingredients.
His response: 'Oh, spinach! I love spinach!'
If you joined 'A Smoothie A Day – for 30 days challenge, you got access to my Easy Green Smoothie recipes, most of which has kale or spinach as one of the ingredients.
However this Kale Spinach Smoothie Recipe wasn't included in that free downloadable guide.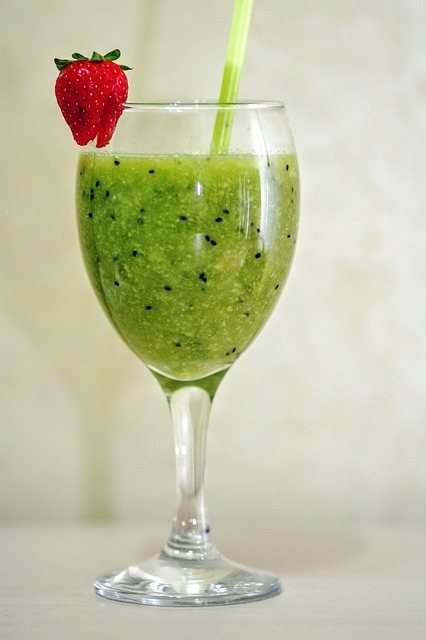 Kale Spinach Smoothie Recipe
1/2 cup spinach
1/2 cup kale
1 celery stick
1 green apple
1 kiwi
1 cup of water
INSTRUCTIONS:
Start by adding the liquid to your blender, followed by the soft fruit. Blend on high for 30 seconds or until the smoothie is creamy.
For a complete meal replacement add 1 scoop Organifi protein powder.
This delicious green smoothie is very energizing and an easy meal for a hot summer day.
Start blending, it's easy, quick and yum!
Health Benefits of Spinach
"Spinach is high in niacin and zinc, as well as protein, fiber, vitamins A, C, E and K, thiamin, vitamin B6, folate, calcium, iron, magnesium, phosphorus, potassium, copper, and manganese. In other word, it's loaded with good things for every part of your body!
Abundant flavonoids in spinach act as antioxidants to keep cholesterol from oxidizing and protect your body from free radicals, particularly in the colon. The folate in spinach is good for your healthy cardiovascular system, and magnesium helps lower high blood pressure. Studies also have shown that spinach helps maintain your vigorous brain function, memory and mental clarity." – says Dr. Mercola
Health Benefits of Kale
The nutrients in kale can help boost well-being and prevent a range of health problems.
It contains fiber, antioxidants, calcium, and vitamin K, among others.
Even the chlorophyll in kale may have health benefits.
It is also a good source of vitamin C and iron.
The fiber, potassium, vitamin C, and vitamin B6 found in kale all support heart health.
A high potassium intake is also associated with a reduced risk of stroke, protection against loss of muscle mass, preservation of bone mineral density, and reduction in the formation of kidney stones. – Medical News Today
Health Benefits of Celery
The benefits of celery begin with it being an excellent source of antioxidants and beneficial enzymes, in addition to vitamins and minerals such as vitamin K, vitamin C, potassium, folateand vitamin B6. – Dr. Axe
Health Benefits of Apple
As one of the most cultivated and consumed fruits in the world, apples are continuously being praised as a "miracle food".
Apples are extremely rich in important antioxidants, flavanoids, and dietary fiber.
The phytonutrients and antioxidants in apples may help reduce the risk of developing cancer, hypertension, diabetes, and heart disease. – Medical News Today
Health Benefits of Kiwi
If you thought that lemons and oranges were the highest sources of Vitamin C, then think again! According to the nutritional break-up of kiwi fruit, per 100 grams contain 154 percentage of Vitamin C, which is almost twice that of lemons and oranges. Vitamin C acts as powerful antioxidant, eliminating free radicals that could cause inflammation or cancer. It also helps in boosting the immunity of the body against harmful pathogens.
Kiwi fruit contains an enzyme known as actinidain which is known for its protein dissolving properties, similar to that of papain in papaya. This is the reason why it is commonly used as a meat tenderiser. Moreover, it helps in the digestion of proteins in the body and is also known to help patients suffering from irritable bowel syndrome.
It is a good source of folate, which is said to be beneficial for pregnant women because it helps in the development of the foetus, making it healthy. It is also considered to be good for growing children. – food.ndtv.com
Considering all the health benefits of the ingredients, this Kale Spinach Recipe is spot on, giving you a delicious  powerhouse – smoothie. Enjoy!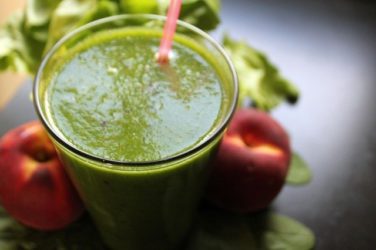 Join SuperMom's A Smoothie A Day – 30 Day Challenge today!
The challenge is to drink one smoothie per day for 30 days.
It is not only a tasty and fun challenge, but it can put your feet on the path to reforming your family's diet into a healthier one by adding a green smoothie to it. Make no mistake, the kids will love it too!
Sounds good?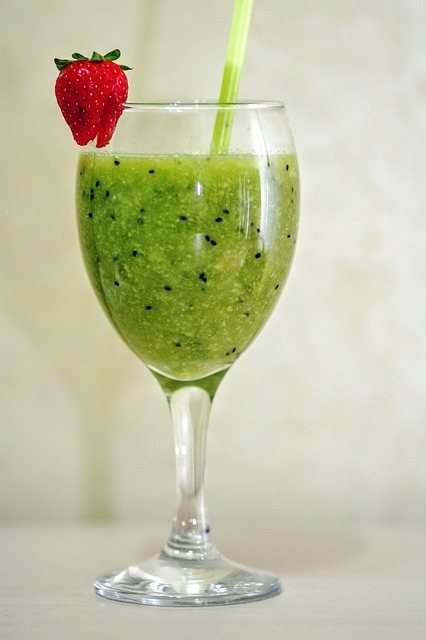 The best is to consume a mixture of leafy greens and fruits by creating easy green smoothies but not every smoothie you drink has to be green. If you use veggies, like carrot or red capsicum, without greens, will work just as well. In fact, you can even create a chocolate protein and fruit smoothie. Yum!
We encourage you to think up new recipes based on a delicious green smoothie formula. Blend together a mix of delicious fruit and greens with water in a ratio of 60% fruits to 40% greens. Following this ratio you will arrive at the best tasting, balanced smoothies.
Introducing different leafy greens into your diet, such as spinach, kale, collard greens, dandelion greens, will help you to get the most benefit from this challenge! All those leafy greens assist in providing the vitamins and minerals your body needs.
In my opinion the best is to start your day with a delicious green smoothie, but you can set your smoothie time anyway you like.
Note that the suggested minimum serving size of a smoothie is 500ml.
Feel free to go for more than one smoothie a day.
In order to participate in this challenge you only need a blender and a few ingredients.
The blender doesn't have to be anything fancy, just operational.
Who is it for?
This challenge is for anyone who wants to introduce more healthy goodness into their daily diet.
It is for those, who want to feel better,  for those who want to provide the best nutrition for their family, and
for those who realized that food is medicine and want to stay healthy.
Who is it NOT for?
I don't know of any type of person who would not benefit from embarking in this challenge.
However, there might be some people who don't like changes and won't change their unhealthy diet one bit.
This challenge is not for them.
WARNING! Participating in the 30 Day Smoothie Challenge may result in the following side-effects:
losing weight
detoxification
increased energy
improved digestion
clearer skin
elevated mood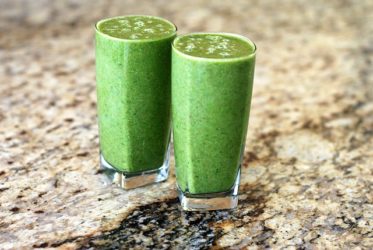 Note that this IS NOT a fad diet or strict detox/cleanse that bans certain foods from your menu however it is not recommended to feel up with candies and chocolate in the rest of the day. I know, you are smarter than that.
I hope to inspire you with this challenge to make little healthy changes to your diet with green smoothies you will enjoy, and want to share with others.
The aspiration is to build a healthier, balanced lifestyle and maintain it for the rest of your life.
Healthy additions, like a delicious green smoothie to your everyday life is likely to reduce cravings for sweets and salty processed foods.
A Smoothie A Day challenge will help you stay motivated and provide you with the recipes, support and inspiration you need to make a healthy change to your life and maintain good health.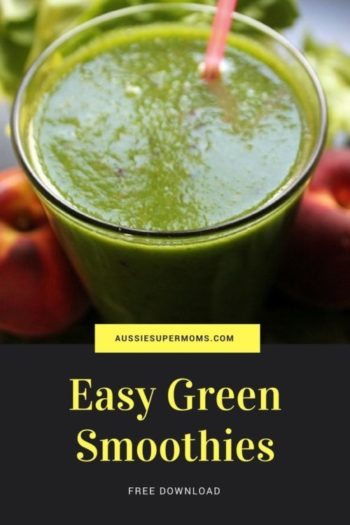 Sign up for 'A Smoothie A Day for 30 Days' challenge and you will receive the following for free:
Easy Green Smoothies – E-Book with tips, recipes and more.
Weekly inspirational and support emails
Updates
If you have a recipe you would like to share, let me know through my contact form.
If you are on Instagram please be sure to share pictures of your smoothies with #smoothiechallenge and tag @AussieSuperMoms.
Help us to spread the word, like us on Facebook and Pinterest.
Commit to a smoothie a day!  Sign-Up here.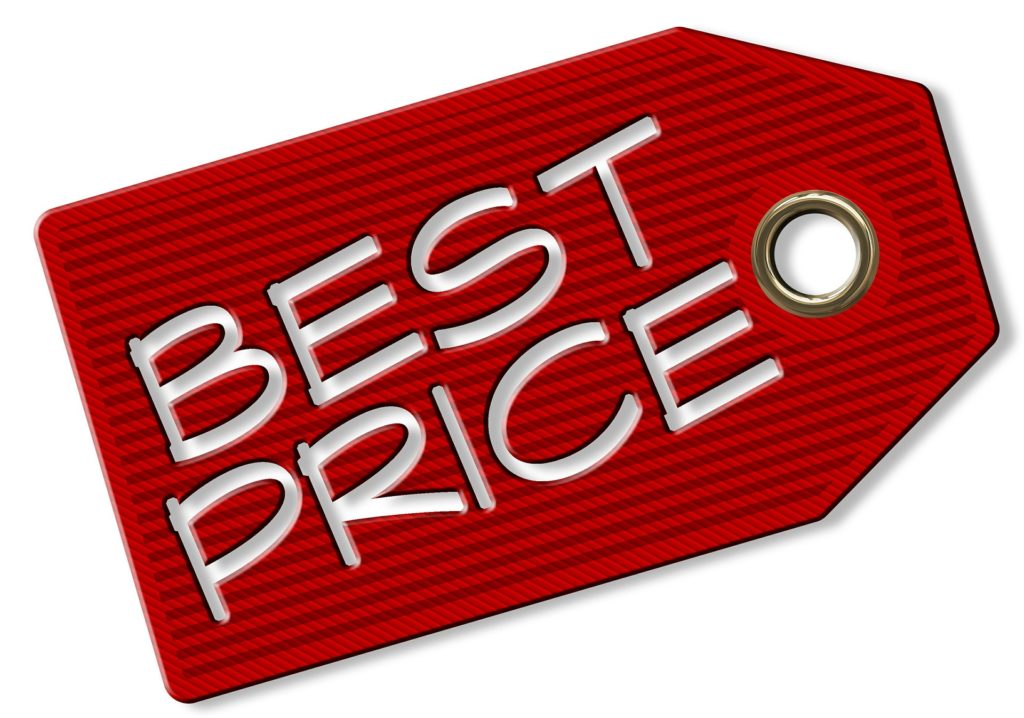 I am a big advocate for budgeting, finding deals, and buying at the best price.
I believe in getting all the items you NEED and LOVE without spending too much on them.
I'm intentionally not calling it saving. Saving implies scarcity. Buying at the best price means smart shopping.
Chasing discounts on overpriced items not always equal to less spending. Although the discount can be a huge saving compare to the original price of the item, but still not smart if you can get the same item for an even lower price from a different retailer.
* This post may contain affiliate links, which means I may receive a commission if you click a link and purchase something we have recommended, at no cost to you. For more details, you may view our disclosure policy.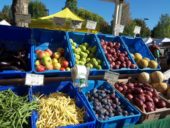 There are additional things to consider as  well.
How far you have to drive to get that $5 discount?
Are you only going for that one item, or you will do the rest of your shopping in the same store? If you do the rest of your shopping there as well, how the prices of the other items compare to those in a closer shop?
If buying online, will the item still be the best buy after adding the postage amount to it?
There is a lot of buzz about savings, coupons and cashback sites on the internet these days. These ideas may help to achieve the goal of shopping and saving, but they can just as easily lure you into impulse buy territory, and once your are in a shopping mode, you may spend more than you have intended.
When we see that something is 25%, 50% or even 80% off, we feel the urge to grab the bargain even when we could do without it. You must be able to say "NO" to these.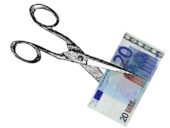 When shopping for my family online, I do a little research on the item first. I like to look around to see the offers of different advertisers.  I find out the selling price from 3 or more different vendors to get a feel for the average price of the product and I buy from the site that has the best price including the postage.
When purchasing online, the additional postage must be taken into account when we are comparing prices and deals as a free shipping offer may make all the difference.
I may or may not use comparing sites, as they are usually get their cut from all of those who they are comparing, and they might exclude some cheaper vendors, who are not paying them. If I really want to get the best price, I do the comparing myself. A lot of times after getting familiar with the online retail prices, I run into a local store, where I can buy the item faster and cheaper. Other times it is cheaper to order something online even with the postage.
As you can see, it's key to be familiar with the usual prices of offers and to keep our eyes open for the real bargains.
After the forewarning above, let's see who can benefit from Coupons, Cashback sites and Rewards cards.
Coupons
Coupons can be a great way to save money. You might receive coupons in the mail, or they are printed on the backside of your shopping center docket, printed in the local newspaper.
I love pizza, and even if it is on my restricted food's list for not being too healthy, we do indulge in it sometimes.
So why not use the Domino's coupon code?
Here's where to look for even more coupons online:
allthedeals.com.au is your one-stop-shop for all the online coupons there are in Australia.
Coupons can help to cut back on the prices of things you need and use and they are usually issued quite regularly.
Cashback Sites
I've heard lots of my friends who live in the US talk about Ebates and I have found it very intriguing but did not look into it until recently. In my honest opinion it can be great for some, but won't suit everyone.
Who can benefit from these cashback sites?
These can work for those who frequently shop online such brands as BONDS, Cotton-On Kids, Esprit, Fila, Lacoste etc.
If you do most of your shopping in the local shopping centre, than you are not going to see lot's of coins rolling back to you.
How does it work?
You shop through the Cash Rewards website and you receive a cash percentage back from the online retailers you purchased from. Note that it's not an immediate cash back and depending on the retailer's policy, it can take up to a few weeks  to receive it. However the cashback amount could be as high as 7% of the original purchase amount.
WARNING! Don't log-in to brows bargains, unless you are very clear on what do you need and the item you intend to buy is listed on your budget for the week. Otherwise you will end up with over the budget expense, and if you used a credit card for the purchase, you can write off most of the cashback rewards as interest payments.
Of all the cashback websites in Australia, Cashback Club offers the highest amount of monies returned, guaranteed. But as I have suggested before, do your homework first and find out what is the average market value of the item you want to buy.
Cashback Club partnered with thousands of retailers offering millions of products and services, meaning you can receive money back on almost anything you purchase online. The number of products and services on offer is growing by the day, as more and more retailers join Australia's number 1 online shopping cashback website.
The site makes it easy to find a deal that might suit you without having to sieve through hundreds of deals not relevant to you.
Rewards Credit Cards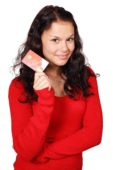 Rewards credit cards usually have a higher interest rate and a certain interest free period.
If you pay off your outstanding balance each months, meaning, you keep your account interest free, than the reward points for shopping will add up and indeed, will be an extra bonus.
However if you go over your interest free period, and start paying interest on the out-standing balance, the reward points will hardly be enough to offset the interest to be paid on your expenditures.
Shop with an open eye and only buy what you really need. Happy shopping!
I truly feel for every woman who undergone serious treatments due to breast cancer or had an operation due to the likelihood of it. I hate to loose a dear friend or a family member but I see the cancer foundation as an ineffective organisation.
As I was driving my kids home the other day an ad came on the radio.  "Colour or shave your head to show your support for fighting cancer!"
How will my bold or pink or purple head will do anything for any cancer patient?!
All these cancer awareness campaigns only push one message: "no cure for cancer".
It is false. The cure is within us and I will explain it later.
I decided to write this blog post and share what I know of, what we should be aware of, but the awareness campaigns don't cover.
If only one person listens and discovers the truth and what can be done about it from this post, I have done more, than most cancer foundation.
I will be very open and if you wholeheartedly believe the mantra that cancer is genetic and nothing can be done about it, this post is not for you.
This post is for those who want to know the truth and want to prevent breast cancer. 
Let's start with a simple correlation.
When did the number of people becoming ill with cancer started to raise?
Wasn't 500 years ago, was it? 200 years ago or less?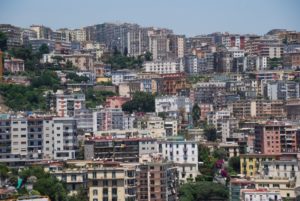 It is really a modern disease, in a modern, chemical society.
Not many institutions talking about it but in today's world we are surrounded with toxic substances and it is almost impossible to avoid these. What is worse, that these toxins pile up in our body and slowly weaken us and damage our healthy cells.
I have read in Dr. Al Sears's Doctor's House Call newsletter the following:
"Hormone-disrupting chemicals are among the most toxic substances in the world today. And they've permeated almost everything you eat, drink and even touch.
Some chemicals, both natural and man-made, can interfere with our hormonal system.
I'm talking about "estrogen mimickers" like Parabens and Bisphenol A (BPA) that are found in the coatings of food and drinks cans, water bottles, baby bottles, dental fillings and sealants, eyeglass lenses, DVDs and CDs, household electronic and sports equipment, receipts and even garden hoses.
Mainstream medicine ignores the impact of these dangerous, gender-bending "xenoestrogens." Yet they are responsible for a vast array of diseases disorders — including:
Heart disease in men and women
Type 2 diabetes
Brain fog and memory loss, as a result of a loss of connection between
Male impotence
Breast cancer"
I've stopped using parabens containing shampoos and body-wash in my household over 5 years ago. It is hard to eliminate all those items that are potential dangers, but these are the preventative measures we must do:
"I'm sure you know by now to avoid plastic bottles. They're made with BPA. And you may already know the basics of avoiding BPA:
Look at recycling labels on the bottom of plastic items and avoid items labeled No. 3 and No. 7;
Avoid plastics for cooking and storing. Better to use glass and stainless steel;
Buy unwrapped organic fruits and vegetables;
Use your own fabric or hemp grocery bags."
Why Detoxify?
We are already filled with chemicals and it is  important to detoxify ourselves.
"These fake estrogens are not biodegradable, so they are stored in fat cells of the breast tissue. There are around 160 of these estrogen mimics that are involved in breast cancer development.  They are in food, personal hygiene products, household cleaning products, and the environment." source:
If your estrogen levels are high or just want to get rid of those estrogen mimicking  compounds, the
following dietary supplements are advised by Dr. Al Sears:
Alpha-lipoic acid: It stops estrogen damage in cells and protects reproductive organs from excess estrogen. Start with 250 mg a day. But you can take up to 600 mg a day.
DIM (Diindolylmethane): You can get this natural estrogen cleanser from cruciferous vegetables, like kale and broccoli. But you can't eat enough to cleanse your body well enough. So start a 100 mg capsule a day. Two capsules provide as much DIM as a pound of vegetables.
Quercetin: This plant flavonoid can directly stop estrogen from forming cancer cells. To detox your body of estrogen, take one 500 mg capsule twice a day.
Eugenol: This is an estrogen-lowering compound that helps keep your body from absorbing estrogens, including fake estrogens like BPA. You can get this extract into your diet with herbs and spices, such as cinnamon, dill and Holy basil. A good way to get eugenol through supplementation is by using clove oil. Make sure you use 100% pure clove oil. Dilute just a tiny bit in almond or olive oil. They will help you absorb it better."
But there is more we can do!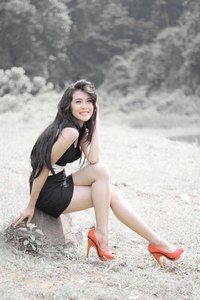 Recently I have learnt about a new health-science and anti-aging breakthrough.
It confirms that our body is built to beat cancer and disease in general. Every illness start with a damaged cell. When the damaged cell hasn't been detected by the body and starts to divide into 2 than into 4 damaged cells etc. we have an organ or a part of the body in a diseased state. We notice it in the form of a symptom, after few months or years.
The breakthrough was the identification of cell signalling molecules,  and the way the body detects, destroys or regenerate damaged cells and yes, it applies to any organ and any part of the body as we are a sum of cells.
It is the key to self healing and it is the key to the maintenance of our health.
Now I'm sure that you would want to do your own research about this and you can learn a lot about the science and the resulting product here. Maybe you are going to be skeptical first. I know, I was. What convinced me is talking to fellow Australian, who got the death sentence and when he heard about the science and started to take the product, everything has changed in his life. Today he is healthy and on a mission to tell the world about this incredible health-science breakthrough.
The perception that "if we can't see it, and can't feel it, it does not exist" – can be detrimental when applying it to illness and health. We can't just go on doing nothing to preserve our health if we want to live a healthy life. In the modern world it takes a constant effort from our part, to take the healthy choice and say no to popular – but unhealthy treats.
It is not enough to pay a visit to the Doctor when something hurts. Prevention is paramount. If you want a long, healthy, full of energy life, do yourself a favor and look into this science.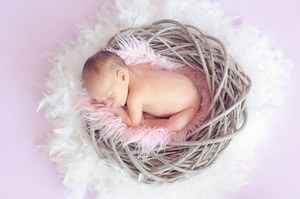 I have started to plan for my first baby's arrival from the first few month of my pregnancy. We were living from paycheck-to-paycheck, and budgeting was a must.
There are a ton of cute and even cuter baby items for sale in the shops and on the internet all the time. I felt it very hard to restrain myself and  just pass by without buying those super sweet baby items. What is essential and what can I live without was a paramount question.
I had to decide what I will be budgeting for and by when I will need these items. I knew I won't need them until baby comes, but what if baby decides to come 3-4 weeks early? Hind side, it was great to have the essentials in place as it turned out to be very tiring to go out and about with a huge baby belly from 36 weeks on.
Once I was clear what we must have before baby arrives, I looked around to see the price ranges and worked out how much I will have to set aside in the upcoming months. In fact if I have seen an essential item on special, available for a very good price, I bought it 2-3 months before my due date.
I will give you my essentials list in a moment, but let me start with the items you might think of as essentials, but in fact you can be without and you can use that money for more important items.
What items Are unnecessary if you are on a budget?
1. Infant Car-seat with detachable base – it might sound like a great idea and if you are not on a tight budget, you can invest in one. I do not consider it essential as it can be used for a short time. A simple baby-carrier did the job for me, when I took my infant out of the car. Instead of that I got a baby-car seat that can be used from infant to 4 years old.
2. Change-table: I got a chest of drawers with a change-table section on the top, but most of the time I changed my babies on the bed anyways.
3. Baby-monitor: I have never used it and did not miss it either. I have found that as a mother, my ears never sleep, and I woke up to the smallest noise if it came from my children's bedroom, next to ours.
4. Crib-mobile: a newborn spends most of the time sleeping. Both my daughter and son frequently fall a sleep while feeding. Than I just lay them down in the cot. We didn't have a crib mobile and I didn't find it as a missing item.
5. White noise machine: if a baby doesn't fall a sleep easily, it's not because of the back ground noise, but because their tummy hurts or they are otherwise uncomfortable. White noise machine will not fix that. On the rare occasions my daughter would not settle, playing music and cradling her worked magic.
6. Wipe-warmer: I didn't see any need for this item. When the wipe was very cold at winter, I held it in my hand for 20 second to warm it up little. It didn't need a fancy appliance.
7. Hips of 0000 baby clothes: some blogs say that you need 7-14 sets of baby clothes. Although you might have to change your baby 2-3 times a day, it is impossible to tell in advance how big the baby will be at arrival. Additionally, the babies grow so much within their first few weeks that they need the next size up. Most of the clothes shopping can be done once baby is here and I found it better to buy one size larger bodysuits and jumpsuits than the actual size of the baby . Handy tip, if you are planning to have more babies in the future, buy baby items in gender natural colors and prints as they will not get worn in that short time while their fit, and can be used by multiple babies in the family.
What Are The Essentials?
1. Baby car-seat: it is illegal to carry babies and children in a car without a proper car-seat, and you will need it to take your baby home. There are car-seats you can use from 0-8 years old, which is a bonus, as you don't need to buy a booster chair later.
2. Baby carrier: I have used BabyBjorn – Original and I loved it as it was comfortable. It has wide solder and back straps which distributes the babies weight evenly on one's back. Although I have never tried a sling type of baby-carrier, it does not seem to be such design that would be comfortable for both baby and mum.
3. Cot or bassinet. It is very obvious why you need it from day one, so I won't elaborate on it.
4. At least two unisex cot sheet sets or sheet sets for bassinet. You might find yourself to change the cot sheet 2-3 times a day in the first few months.
5. Cot blankets. You need more than one, in case of an accident, and cold weather.
6. Baby bottle to give baby water, for access breast milk, or formula if no breast milk. I used Phillips Avent Classic Pp Bottle it was easy to clean and wasn't leaking.
7. Nappies: washable, reusable nappies if you are concerned about the environment, or disposable nappies will be needed from they one. If you choose disposable nappies, the cheapest might not be the best. I have tried several brands and not all worked for us the same. Huggies worked well and surprisingly, the Coles' Comfy bot's nappies performed well too, and didn't cause nappy rush.
8. Pram or Stroller: it is important to take baby out for a walk to the fresh air and mummy needs the walk too. A pram or stroller makes it very easy and enjoyable. Most pram's have several settings, and can be adjusted lay down the back, if baby falls a sleep.
9. Water-proof mattress cover for the cot mattress is a very handy item. It helps you to keep the mattress clean and dry, one less thing to worry about.
10. Towels and face-washers – these are needed to wash and dry your baby, and the face-washers will be in frequent use during the day after feeds.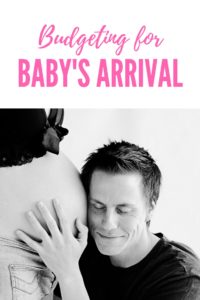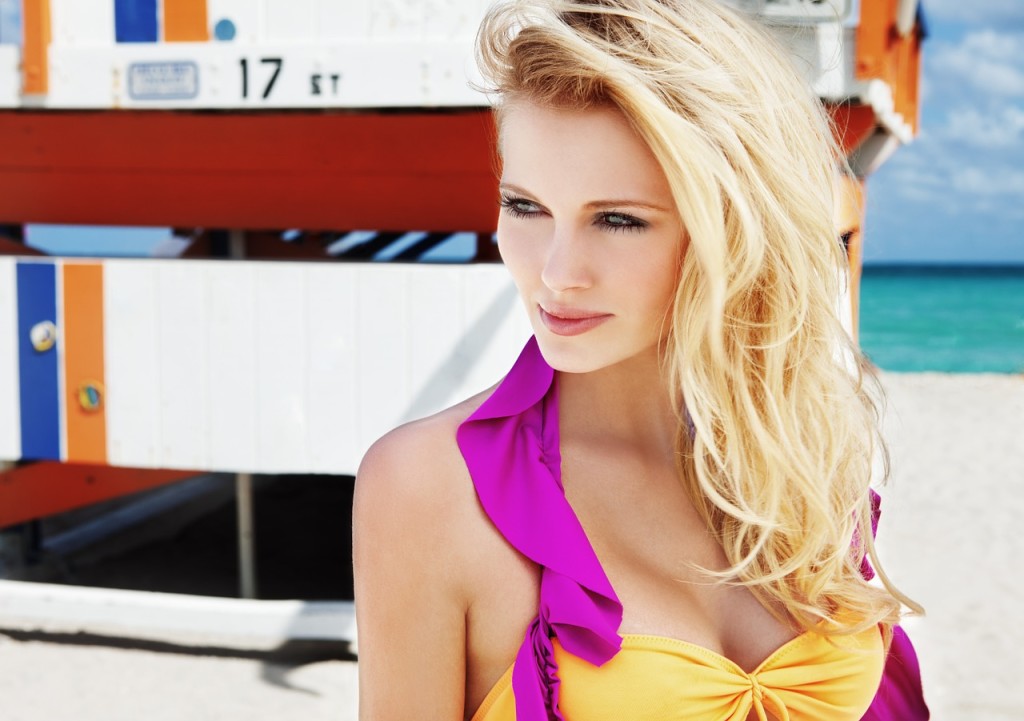 Yes, You Are A SuperMom
Every mom who takes good care of one or more child is a SuperMom.
We might have different strength.
Some moms are better cooks, while others are a better teacher or a better finance director of the family and some extraordinary moms are unbeatable in juggling between motherhood, work and business.
A supermom has amazing abilities. She can wake up ten times in the middle of the night when her baby needs her, but can sleep through any noises that originates from somewhere else.
She is strong from tireless weightlifting, and somehow she always finds and extra arm.
A Supermom knows her weaknesses and search for the answers and the ways to get better.
With the experience of each new day, we become a better mom.
Because we didn't receive a manual with our kids, we have to rely on our instinct and on the wisdom of other Supermoms and grandmas and teacher's who experienced motherhood.
You are a caring mom, who wants to find the answer or the solution for a problem.
We share what works for us with our kids, but remember, every child is different, and you have to evaluate every advice you get from a friend or from a blog.
If an advice does not seem right for you, than it isn't. For you are the one who can observe the signs of your child, you see his smile, you hear his cry.
When it comes to his/her health and happiness, there is no higher authority than yourself.
If your child does not react well to an approach, you got to change the approach.
The best thing you can do for your child is to keep listening to his/her signs, observe his/her reactions and listen to your own instinct, as you do have the ability to know what is right and what is wrong in a particular situation.
That being said, I hope that you will find a lot of useful information on our site and you will comment on a post if you like it or if you disagree with it. We are interested to learn your opinion for you are a supermom too.
When your child begins getting their first teeth, they may experience some pain. Typically, a baby seems irritable and anxious. They require their parent's comfort through this difficult time in life. It can be very confusing to experience pain without understanding why. It allows you to become more aware of the symptoms of natural teething and the benefits of a parents love in helping their child get through the pain.
What are the Symptoms of Teething?
The symptoms of teething can range from baby to baby. However, there are some generalized symptoms associated with teething that almost every baby goes through:
– Increase in saliva flow
– Inflammation of the gums
– Red cheeks
– Low-grade fever
– Increased thirst
The symptoms of teething can appear several weeks before you notice your baby is teething. You will be able to confirm the problem when your baby develops a little white bump under the gum, which is the tooth trying to poke through gum. Shortly after, you will see a thin white line on the gum surface, which is the enamel of your baby's first tooth. This is commonly referred to as "breeding the teeth."
When your baby is fussy from teething pain, taking them into a well-ventilated area may help. Getting fresh air, and a little bit of sunlight can help boost their mood and help relieve pain. You can also provide milk on a regular basis. The proteins in milk ensure the gums remain elastic, moist, and relaxed. Even though you want to provide milk on a regular basis, you do not want to overdo it, too much milk can cause a heaviness in the tummy, causing the development of a second problem that will make your baby fussier.
From the start of teething pain, you will want to use natural remedies to help your baby with the pain. Over-the-counter pain relief gel can harden the gums, making it more difficult for teeth to push through, increasing pain. Babies teeth easier on items like scraped licorice root, or flat teething ring to help with the pain.
A child's teeth require a lot of care because the health of their first set of teeth will affect the health of their adult teeth later in life. The first tooth becomes visible around the age of six months old. Getting all of their teeth could take between a year to two years after the first tooth has seen. The time depends completely on the child and their individual development.
Unfortunately, many parents take baby teeth for granted because babies get a second set of teeth later in life. I know, I was one them and in a short order I had to re-evaluate this idea. From the moment the first tooth beings to erupt, good dental hygiene should begin but good eating habits too. Even a 100% fresh squeezed orange juice can do a lot of damage if your child is continuously sipping on it. It's much better if  a child is only given water to drink. Munching on cookies and crackers, drinking sugary juices and cordial creates and acidic environment in the mouth and it draws minerals out of the tooth making the dentin weak and prone to tooth decay. The first sign might just be a white spot on the tooth. That is a red flag but at that stage with good nutrition you can reverse this condition. You can read about the flexible whole foods dietary program pioneered by the head of research at the National Dental Association, Weston Price D.D.S. that proved 90-95% effective in halting cavities in Ramiel Nagel's book: Cure Tooth Decay
It is important to start brushing those baby teeth as soon as they are out. There are a number of toothpastes on the market with xylitol as an active ingredient, which poses less risk than fluoride toothpaste. You can make your own tooth paste as well, mixing coconut oil with baking soda to form a paste. By instilling good oral hygiene, you are setting your child up for a lifetime of being healthy and strong.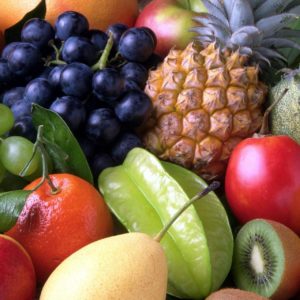 I think you will agree that there is a lot of confusing information about healthy foods.
There are many different contradicting advice on the internet. How do you know which is correct?
The best person to determine which food is healthy for you is YOU.
Are your favorite meals making you feel tired or bloated? Than you probably need to change what you eat.
Do you feel good after eating and you have a lot of energy? Than you are eating the right thing.
My idea about a healthy meal is one that contains most, if not all the essential nutrients the body needs.
Consider this: there are over 80 essential nutrients like essential minerals, trace-minerals, essential vitamins and essential amino-acids.
They are named essential because although these are needed for the body, it cannot produce these, but relies on getting them from food.
There is not one single type of vegetable or fruit that would contain all the essential nutrients, thus the more fruit and vegetables you consume the higher the chance that you are giving your body all the nutrients it needs.
Highly processed foods are void of nutrients. The best way to control what nutrients goes in to your body is making your own nutritious meal.
Don't forget to drink plenty of water as the body needs a lot of fluid daily.
Coffee dehydrates. If you are a coffee lover, like me, try to change your morning coffee for a green drink or lemonade and reduce your daily coffee amount.
Most important thing however is to listen to your body. It sends you its signals, and only you can decode them.