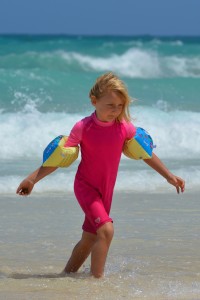 Summer time is usually sunny, hot and dry in Western Australia. The best way to enjoy it is to go out early on the day to the beach or a park.
For a midday fun I used to fill up the little pool, that is placed in the shade for them.
My kids love playing on the playgrounds, but during the day it is just too hot for a walk or be outside on the sun.
As the best sun protection is staying in the shade, we usually spend the afternoons in the house.
Their favorite afternoon activity when it is so sunny and hot outside – is baking "star-cookies". Now that warms up the house too.
I'm Etelka Koshemakin - a mother of two wonderful children, a wife, a healthy lifestyle enthusiastic, and a business woman. Through my blog posts I aim to inspire other mums to discover their inner genius, set it free to create a healthy, balanced and fun life for their family. Connect with me to get awesome tips and videos.